Diese Veranstaltung hat bereits stattgefunden.
Blue Skies and High Peaks 2022
Januar 13, 2022 @ 5:30 pm

-

7:30 pm

Kostenlos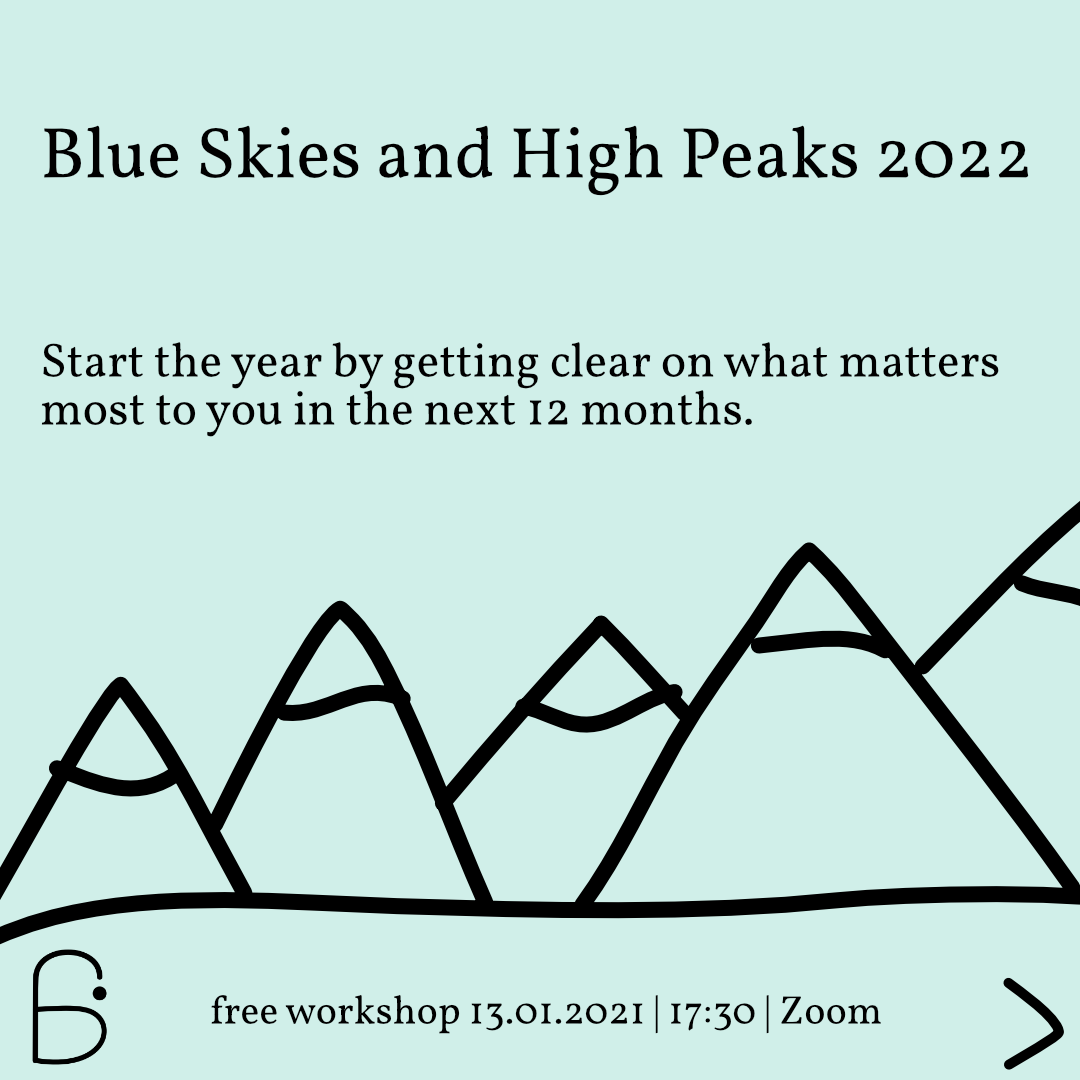 The past two years were – to say the least – something else. We had to adapt to new and uncertain circumstances in ways many of us could not have imagined. As we are settling in to this new way of living with uncertainty around the covid 19 pandemic, all of the other important things don't just become less important. They might blend into the background for a while, because other things are more urgent. But if we let them sit in the background for too long and keep focusing on urgency, we tend to not have such a good experience.
Are you ready to re-focus on what actually is important, to center your attention on the change you want to see in the world and all the contributions you are here to make?
In this workshop, we will work together to create your personal "Life's Blueprint" – a map that will help you to keep getting clear on what really matters.
This workshop is for you if:
you feel like you are always chasing your to-do list and never live "properly" (or)
you don't know what it is that is really important to you or you want to become more aware of it (or)
you are striving for a fulfilled, meaningful life (or)
you have the desire to contribute to a good life for all.
If you are interested, please register using the form below – I look forward to seeing you!
The workshop will be held on zoom, so it doesn't matter where you are located! 🙂
_____
Transparency Disclaimer:
I make my living by offering 1:1 and group coaching. One of the main ways in which I get new clients is through free workshops like this. If I see that we could do some great work together beyond this workshop, I might invite you to a free discovery session afterward. HOWEVER: This is not a sales event. I am not going to sell you anything during the workshop. My goal is to support you 100% in looking at what is important to you.